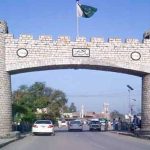 KARACHI: The Federal Investigation Agency's team on Tuesday brought Abdul Rahman alias Bhola to Jinnah International Airport in Karachi from Bangkok. Rahman alias Bhola is one of the main accused in Baldia factory inferno case which claimed more than 250 lives.
According to reports, the FIA will start initial investigation and then hand over Bhola to authorities.
A two-member FIA went to Thailand on Sunday to get custody of Abdul Rahman. After reaching Thailand the team requested access to Bhola, who was under treatment at a hospital of Bangkok prison for having kidney problems.
The FIA had constituted a two-member team comprising Deputy Director Badar Baloch and Inspector Rehmatullah Domki for Bhola's extradition to Pakistan, sources had informed. The team arrived in Thailand along with documents and legal records pertaining to the Baldia factory tragedy, for taking custody of Rahman alias Bhola.
Earlier in his initial statement to the Interpol in Bangkok, Bhola had maintained himself as a 'political worker affiliated with the Muttahida Qaumi Movement,' Federal Investigation Agency official said.
He was rounded up from Bangkok by the Interpol on December 03, upon the request of Pakistani authorities.
On November 28 during hearing of the Baldia factory fire case, an anti-terrorism court had grilled authorities for not being able to arrest Hammad Siddiqui and Rahman alias Bhola. The court had ordered the interior ministry to arrest fugitives with the help of Interpol.
In September 2012, a deadly fire devoured over 250 lives at a factory situated in Karachi's Baldia Town. Subsequent investigations led to revelations that the factory was deliberately set ablaze over non-payment of extortion money.