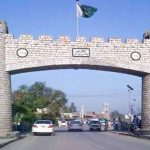 QUETTA (Khyber News): Hundreds of employees of various departments of Balochistan government have been holding sit-in protest at Hockey Chowk in support of their demands, Khyber News reported on Monday.
The protesters belonging to Balochistan Employees and Workers Grand Alliance have a 29-point demand which also included a 25 percent increase in their salaries.
According to sources, negotiations between Balochistan government officials and protesting employees were held twice during the day but remained unsuccessful.
The protesters vowed to continue their sit-in protest till the government meets their demands. Sources said that employees from other parts of the province are also participating in the sit-in.
The sit-in has severely affected the traffic flow near the Hockey Chowk and other roads in the provincial capital Quetta.