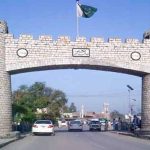 ISLAMABAD: Detained family members of head of banned Baloch militant group Dr Allah Nazar were released and handed over to his brother-in-law Mehrullah on Friday, a government spokesman said.
"As proud sons of Pakistan and Balochistan, the sanctity of our sisters is very supreme to us," Anwaar ul Haq Kakar, a spokesman for the Balochistan government, said, after sharing a photo of wife of Dr Allah Nazar meeting Chief Minister Sanaullah Zehri.
The pic, he maintained, exhibits the treatment the government gives to women.
Kakar strongly defended the arrest of Nazar's family members.
"The arrested women were never enforcedly disappeared. They were detained and released as per law of the land," he said.
"State has every right to apprehend any citizen for any suspected activity. It can then either charge suspect or release him as per law," he added.
Meanwhile, Balochistan Chief Minister Sarfraz Bugti said that his government had fulfilled its promise of releasing the detainees.
He thanked the chief minister for playing a role in the release of detained women and children.
"Government of Balochistan treated detained families with great respect and remained true to its word regarding the issue," he added.
He said that women were arrested from Chaman border and treated as per Baloch traditions and investigated for multiple charges.