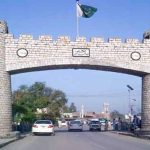 The Balochistan government on Friday urged the Pakistan Democratic Movement's (PDM) leadership to delay its October 25 jalsa in Quetta due to security reasons, Khyber News reported. He Sais "Terrorists are targeting political leadership in Balochistan," said Liaquat Shahwani, the Balochistan government spokesperson, during a news conference.
Shahwani's comments come a day after the National Counter Terrorism Authority (NACTA) in Islamabad issued a threat alert for Peshawar and Quetta, saying that banned militant outfit Tehreek-e-Taliban Pakistan (TTP) is planning terrorist activities in the two cities. Claiming that the government was taking security issues seriously in Balochistan, Shahwani said that Opposition parties should show some responsibility. Noting that the past law and order situation was a cause of fear in the province, Shahwani highlighted that the PDM had already delayed its jalsa two times earlier.
The Quetta jalsa is the third anti-government power show of the 11-party alliance. The first and second rallies were held in Gujranwala and Karachi, where the Opposition had slammed Prime Minister Imran Khan over his policies.