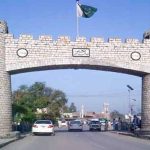 QUETTA: All the lawyers across Balochistan on Wednesday while strongly condemning the suicide attack in Charsadda have announced to boycott from the proceedings of court.
The announcement to this effect has been made on the call of Balochistan High Court Bar Association President Abdul Ghani Khaleeji Advocate, General Secretary Nasibullah Tareen Advocate and Balochistan Bar Association President Muhammad Asif Regi.
Meanwhile, the litigants faced severe problems due to the boycott of lawyers from court 's proceedings.
It merits a mention that lawyers across Balochistan strongly condemned Charsadda attack and announced to boycott from court's proceedings for one day.