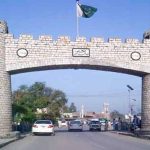 QUETTA: The Chief of Army Staff (COAS) General Raheel Sharif on Tuesday said that the people of Balochistan had clearly rejected foreign sponsored terrorists and helped the State in busting their network.
While paying glowing tributes to the officers and soldiers of Southern Command and Frontier Corps (FC) Balochistan in Quetta where he arrived today as part of his farewell visits, the COAS said that now that the tide in Balochistan has been turned against terrorists and their sympathisers, and large number of Ferraris were surrendering.
"We will continue to work with the provincial and federal governments towards greater security and stability," General Raheel said.
The COAS said that security and assistance to civil government in institution building and development work in remote areas has been his priority which brought him to Balochistan almost every month.
The army chief commended Southern Command for managing an arduous task of construction of over 1000 KM long road network in the rugged and hostile terrain by Frontier Works Organization (FWO) and National Logistics Cell (NLC) which helped in operationalization of China-Pakistan Economic Corridor (CPEC) in a stipulated time frame.
The COAS said that Gwadar port and CPEC will usher into new era of hope and prosperity for the area with dividends reaching a common man.
General Raheel also appreciated Southern Command for reintegrating youth by their mass induction into FC/Army, rehab of earthquake hit Awaran and training of 6000 policemen and levies. He also appreciated the improvement in Management of long and treacherous border with Afghanistan and Iran which has helped improve overall security situation in the province.
Earlier on arrival at venue, Commander Southern Command Lt General Aamir Riaz and IG FC Balochistan Major General Sher Afgun received the COAS.