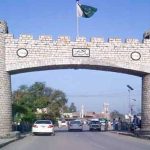 QUETTA: Prime Minister Imran Khan, who is in Balochistan on his maiden visit after assuming office, met provincial cabinet members in Quetta on Saturday.
Federal Minister for Information and Broadcasting Chaudhary Fawad Hussain, Federal Minister for Planning Makhdoom Khusro Bakhtiar, Deputy Speaker National Assembly Qasim Khan Suri, and Minister of State for Interior Shehryar Afridi.
Special Assistant to Prime Minister on Political Affairs Naeem ul Haq and Special Assistant on Media Iftikhar Durrani were also in attendance.
During the meeting, the prime minister was briefed about the ongoing projects in the province. Balochistan cabinet members also apprised the premier regarding financial crisis of the province.
Jam Kamal said that the people of the province have expectations with the provincial and federal governments, adding that if the provincial and federal governments failed to deliver, then it would have negative effects on the people of the province.
"Balochistan is enriched with natural resources," he said and added the people of the province should be given benefit. Failed planning in the past has increased feeling of deprivation among the people of Balochistan, he added.
On the occasion, PM Imran said that the federal government would only promise what it could deliver, adding that Kachi Kanal Phase-II and Phase-III would be completed soon. "The Asia Development Bank (ADB) would be approached if the government needed loan to complete this project," he added.
Balochistan would be give its due share in the China-Pakistan Economic Corridor (CPEC), the premier said. The prime minister said the Federal Government in collaboration with Balochistan authorities will end backwardness in the province.
Imran Khan said a comprehensive strategy would be worked out for an early progress of Balochistan in the light of proposals to be submitted by the Provincial Government.
The prime minister asked the members of Provincial Assembly to do an effective legislation for resolving problems of the people in the province. He also stressed the need of taking measures on priority basis to meet the water scarcity in Quetta city.
Earlier, in his separate meetings with Balochistan Governor Justice (r) Amanullah Khan Yasinzai and Chief Minister Jam Kamal Khan, PM Imran Khan said that federal government was committed to welfare of people of Balochistan and development and progress of the province.
The prime minister said that all out resources will be utilized in consultation with all stakeholders to achieve these objectives. They also discussed overall situation and in particular the pace of development and welfare projects in the province.