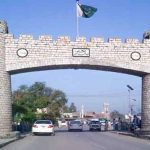 PESHAWAR: Internal rifts in the management of Bank of Khyber (BoK) has deepened as a vice president of the Bank Monday resigned.
The Bank of Khyber (BoK) and provincial finance minister Muzaffar Said have been indulged in counter-charges of corruption and illegal activities. The JI has demanded of the government to sack MD BoK as the chief minister has already ordered inquiry into publication of an advertisement against finance minister.
Vice President of BoK Imran Samad, head of credit and development department, Monday resigned, fearing action from the provincial government.