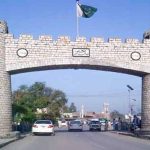 ISLAMABAD: Balochistan Awami Party (BAP) chief Jam Kamal on Tuesday announced unconditional support for Pakistan Tehrik-e-Insaf (PTI) in forming government at Center whereas PTI will join coalition government with BAP in Balochistan.
Talking to media after meeting PTI Chairman Imran Khan at Bani Gala, Jehangir Khan Tareen said that the meeting remained very positive and both parties agreed on all issues. He said that PTI will support Jam Kamal as Chief Minister of Balochistan.
Jam Kamal said that both BAP and PTI share same vision adding that their aim is to resolve problems being faced by masses.
BAP leader Jam Kamal said, "We have made unconditional alliance with PTI."
He said BAP will back PTI in Centre and the latter will support us in Balochistan.
Jam Kamal went on to say BAP and PTI would run the affairs of Balochistan and centre as a coalition partners.
Speaking on the occasion, Jahangir Tareen said PTI backs Jam Kam for Chief Minister Balochistan, adding that it is the right of BAP to bring their chief minister.