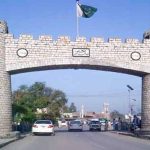 QUETTA: The newly formed and majority party in Balochistan assembly Balochistan Awami Party (BAP) announced that they will form the coalition government with Pakistan Tehreek-e-Insaaf (PTI) in Balochistan.
Addressing press conference the chief of the BAP Jam Kamal said that his party will prefer an alliance with the party that will form the government in the centre, however, dialogue with other parties still on the cards.
"We have 18 members including three independent candidates and for forming government talks with PTI is under process," he claimed.
He appreciated the people for their participating in the electoral process and said that his party has some reservation over election like other political parties, however, they believe in the continuity of democratic process.
He claimed independent candidate elected from Zob, Mitha Khan, Masood Luni and Arif Muhammad Hassni have joined the BAP.Talking on the occasion, former chief minister Balochistan Abdul Qadus Bezinjo said that defeated parties in the election only crying fouls as elections were better than 2048.
"Opponents blamed on us as the party of the establishment but if we are such kind of party than how our strong candidates lost their seats in Quetta," he said adding that their strongest candidate Sarfraz Bugti lost his seat.