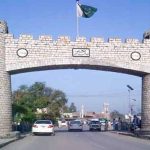 KARACHI: Pakistan Tehreek-e-Insaf (PTI) and Balochistan Awami Party (BAP) have reached a consensus to form government in Balochistan, claimed a PTI leader Sardar Yar Muhammad Rind.
Addressing media here on Thursday, the PTI Balochistan chapter chief Rind said that BAP would support PTI in the National Assembly while PTI would reciprocate the same in Balochistan Assembly.
"It is BAP's right to select a chief minister," said Rind. "The BAP also has a right to decide whether it should include us in the cabinet or not," he added.
For his part, BAP leader Jam Kamal said that democracy carries disagreements but they could be resolved.