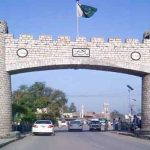 FAISALABAD: The former Prime Minister and Pakistan Muslim League-Nawaz (PML-N) Quaid, Nawaz Sharif on Wednesday claimed that the baseless allegations leveled against him were badly exposed in accountability court.
While addressing a gathering on eve of death anniversary of PML-N leader Chaudhary Sharif in Samandri, Faisalabad, Nawaz Sharif claimed that he has always worked with honesty and never thought of looting and corruption. He maintained that he always considered the money earned through corruption and unfair means as curse.
He asked the people, "Do you accept such a disrespect with your votes," the people answered negatively and chanted slogans in his favour.
He said that his government has ended the power crisis and also gifted China Pakistan Economic Corridor to the nation.
Earlier while addressing the gathering, Maryam Nawaz, the daughter of former prime minister Nawaz Sharif vowed not to let any conspiracies succeed against the ruling Pakistan Muslim League-Nawaz (PML-N).
The PML-N leader called on the people to respect their vote and promise that they will support Nawaz throughout.
"There [have been] corruption allegations worth billions of rupees [against us], yet Nawaz was ousted over possession of iqama, for not taking salary from his son," she lamented.
"Respecting the vote means respecting the people. Promise me, that you will respect the vote and yourselves," she said, adding that the people have taken responsibility of respecting their vote.