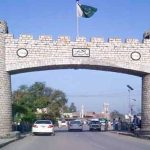 ISLAMABAD: Non-bailable arrest warrant for driver Javaid-ur-Rehman has been withdrawn in Benazir Bhutto murder case on Monday.
As per details, the accused driver was appeared in the court during which the honorable judge withdrew Javaid's non-bailable arrest warrant and directed the investigation officer to present him in next hearing.
On the other hand, the judge has also approved Deputy Inspector General's (DIG's) one-day exemption from court.
Subsequently, the court has adjourned the hearing till August 26.