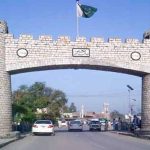 THATTA: The bomb disposal squad defused an explosive device that was planted at the Jungshahi railway station in Thatta here on Sunday.
The area – that was cordoned off by the officials – has now been opened after a search operation. The railway tracks have also been cleared for locomotion.
Let it be known that the Bahauddin Zakariya Express had been stopped outside the Jungshahi railway station when the bomb was found.
The explosive could have targeted the Hazara Express and Zakaria Express which were scheduled to run on the route, but a possible tragedy was averted by timely action of the authorities.
It is worth mentioning here that a bomb blast had earlier occurred on Friday at fruit and vegetable market in Quetta's Hazarganji area killing at least 20 people.