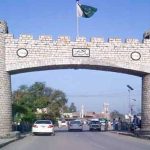 HANGU: The Bomb Disposal Squad on Saturday foiled a terror bid while defusing two bombs planted near Beland Khel bus stand in main bazar of Tall tehsil of Hangu district.
According to police, the Israfeel Market security guard on Saturday morning informed the police forces of bombs planted near the Beland Khel bus stand. Police said that the Bomb Disposal Squad (BDS) personnel defuses one hand grenade and two remote controlled bombs.
Incharge BDS Asduallah told media that they received an information about presence of bombs in Israfeel Market, adding that the BDS team reached on the spot and defused two remote controlled bombs and one hand grenade. He said that the two bombs were weighting 20 kg each adding that petrol bottles were are placed near the bombs.
Police has launched search operation in the area to arrest the culprits involved in the incident.
Meanwhile, following the fresh wave of terror attacks across the country Pakistan army has launched operation 'Raadul Fasaad'. During the search operations more than 100 suspected people were arrested in Charsadda, Peshawar and other areas of the country.