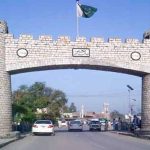 LONDON: Commenting on the Accountability court's verdict, Maryam Nawaz said that the punishment has been given to her and her father Mohammad Nawaz Sharif due to their struggle against the unseen powers, who have been active for the last 70 years.
She said that this punishment is very small compared to their struggle and this has boosted the courage and encouragement.
In a series of tweets, Maryam praised his father and said: Bravo Nawaz Sharif! You are fearless. You did not surrender yourself. You preferred Pakistan on your personal life. People stand with you. Victory will be yours, Insha Allah.
The Accountability Court Friday sentenced former prime minister, Muhammad Nawaz Sharif to ten years imprisonment and imposed a fine of 8 million pounds in Avenfield reference.
His daughter Maryam Nawaz has also been sentenced to seven years imprisonment with a fine of 2 million pounds. While her husband, Capt (r ) Muhammad Safdar has been given one year imprisonment in the same reference.
The court also directed to confiscate the Avenfiled flats.