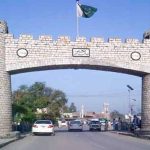 ISLAMABAD: Caretaker Prime Minister Nasir-ul-Mulk says Belt and Road Initiative will be a major source of development for the people of the region and further cement strong ties between Pakistan and China.
He was talking to Chinese Ambassador Yao Jing, who called on him in Islamabad.
The Prime Minister thanked the Chinese Ambassador and conveyed good wishes to Chinese President Xi Jinping, Premier Li Keqiang and the people of China on behalf of the People and Government of Pakistan.
The Ambassador reiterated the strong brotherly relations between Pakistan and China and stated that China stands shoulder-to-shoulder with Pakistan on matters of mutual interests and international issues.