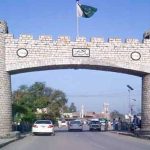 ISLAMABAD: The Supreme Court on Friday resumed hearing a petition filed by the mother of Benazir Bhutto's chief security officer Tauqeer Kaira to suspend bails of police officers Saud Aziz and Khurram Shahzad.
Kaira was also killed in the attack that targeted the former prime minister in 2007.
The petition, earlier rejected by the SC registrar, argued that officers Aziz and Shahzad were granted bail and posted at important positions against the rules. It said that the then city police officer (CPO) Saud Aziz and superintendent police (SP) Khurram Shahzad were suspects in the Benazir Bhutto murder case since they had cleaned the site of Bhutto's death soon after the attack.
The two officers had been granted bail by the Islamabad High Court (IHC) after an anti-terrorism court (ATC) awarded both the officers 17 years imprisonment.
The counsel for the police officials told the court that since the petitioner, Rasheeda Bibi, had passed away, her petition was ineffectual.
The court, however, rejected the lawyer's request to declare the petition ineffectual, saying that Bibi's daughter had in the last hearing become party to the petition, and asked her lawyer to continue with his arguments.
Sardar Latif Khosa, the counsel for Rasheeda Bibi, said that the police officers were involved in the murder conspiracy.
When asked by Justice Asif Saeed Khosa what evidence there was to suggest their involvement, Latif Khosa said that they were involved in destroying the evidence.
Latif Khosa said that there was also an appeal against the trial court's decision pending before the high court.
Latif Khosa maintained that one cannot get bail against an anti-terrorism court's judgement. "On what basis were they granted bail?" he asked.
Justice Khosa, however, said that the high court's constitutional powers could not be curbed.
"Before becoming City Police Officer Rawalpindi, Saud Aziz was the Regional Police Officer Gujranwala," Latif said. "Benazir Bhutto was to be given a secure enclosure and the CPO was responsible for this. Instead, he sent an SSP and other officers [for security]," the lawyer said, adding that Benazir had been shot at point blank range.
"Before she travelled to Karachi, she had named some people," Latif said.