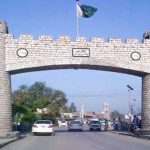 KARACHI: Pakistan Peoples Party (PPP) Chairman Bilawal Bhutto Zardari has on Friday said that former prime minister Benazir Bhutto was a bond between all four provinces and her assassination was a conspiracy against Pakistan which was foiled by erstwhile president Asif Ali Zardari who chanted the slogan of 'Pakistan Khappay' [Long live Pakistan].
Whiling giving tribute to his mother on her 12th death anniversary on December 27, Bilawal said Pakistani nation will always remember Benazir Bhutto who sacrificed everything for the country. She fought bravely for the ideology for which former premier Zulfikar Ali Bhutto was hanged.
The PPP chairman said Benazir united the followers of Zulfikar Bhutto and led an untiring struggle against military dictator Zia-ul-Haq. She remained in solitude and exile for restoration of democracy in Pakistan, Bilawal said.
Benazir Bhutto defeated dictatorship, released all political prisoners after becoming the prime minister, worked for the prosperity of people – particularly the poor and women – by investing on education and health, he said.
She updated Pakistan's ballistic missile program and made the country's defense invincible in the presence Pakistan's nuclear program which was initiated by Zulfiakar Ali Bhutto before his judicial murder, Bilawal said while vowing to continue struggle till the completion of his mother's mission.