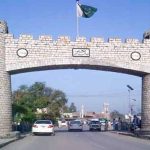 GAHRI KHUDA BUX: Chairman Pakistan Peoples Party (PPP) Bilawal Bhutto Zardari on Tuesday announced that preparations for a political long march has been kicked off following federal government's failure to fulfill Bilawal's four demands for charter of democracy.
He was addressing party workers on the occasion of 9th death anniversary.
Bilawal Bhutto-Zardari announced to visit each corner of the country as part of his party's planned anti-government movement. 'I asked the government to accept our four demands, but it turned deaf ears to all those clamours," moaned Bilawal, adding it's now time to begin the 'political long-march'.
He claimed that PM Sharif was mired in various scandals including 'Sasti Roti, Yellow Cab, Danish Schools, Asghar Khan case, LNG scandal, Nandipur, Hudaibiya Mill, and Model Town massacre. "You've been involved in series of scandals," he said.
The PPP chairperson announced to visit each corner of the country as part of his anti-government movement.
He said PPP was still resolute in solving problems facing the masses as it would do under late Zulfikar Ali Bhutto.
Bilawal said Benazir could only get five years of power during her 45 years of struggle.
He warned PM of strong opposition protest if Panama Papers bill fail to sail through National Assembly.
Bilawal questioned why the Asghar Khan case couldn't be settled as yet. He also raised questions over incomplete trial of Zulfikar Ali Bhutto's murderers.
Earlier, he began his speech underlining sacrifices of his slain mother and grandfather who founded the Pakistan People's Party.
Bilawal Bhutto Zardari claimed that PML-N government 'has failed on all fronts', promising that he would reorganize his party to steer the country out of crisis.
Bilawal lashed out the Prime Minister for his policies, saying that the government is surrounded by political and economic scandals. "PML-N has failed to deliver on all fronts. It is unable to understand our four demands… The Interior Minister is issuing threats to Supreme Court and other institutions, instead of tendering resignation," he said. "Gali Gali mein shor hay, Nawaz Sharif chor hay," he chanted, calling the PM 'Panama Sharif'.
"I want to reorganize my party with a new pattern and with modern methods. I wish to run Peoples Party with a new vision," Bilawal said.
Earlier Asif Ali Zardari addressed the gathering, announcing that he and Bilawal will take part in elections to join the incumbent Parliament.
Central leaders of PPP, Sindh Chief Minister Syed Murad Ali Shah, Sindh cabinet members, MNAs, MPAs and a large number of PPP supporters attended the gathering.