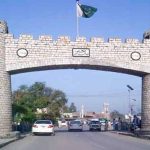 PESHAWAR: Pakistan Peoples Party (PPP) Chairman Bilawal Bhutto Zardari on Thursday asked the Election Commission of Pakistan (ECP) must "wake up" and take steps to ensure that free and fair elections can take place in the country.
While addressing a public gathering in Khyber Pakhtunkhwa's Mohmand district, Bilawal slammed Prime Minister Imran Khan, claiming the premier is mired in his "own drug habit".
"Imran Khan arrested Pakistan Muslim League-Nawaz [PML-N] leader Rana Sanaullah over drug possession… but what about his own drug habit?" Bilawal accused PM Imran of using drugs.
Speaking about the two incarcerated Pashtun Tahafuz Movement (PTM) parliamentarians, Ali Wazir and Mohsin Dawar, the PPP leader said that the representatives of Waziristan were not present in the National Assembly to approve the budget and voice their concerns of the people of the tribal district.
"This is a crime against the people of Waziristan… I was the only one who demanded for their production orders," said Bilawal – the scion of the Bhutto political dynasty.
The 'selected' prime minister, he said, has rolled out a budget which is against the people of Pakistan. "This is nothing more than an economic terrorism."
"What kind of democracy and freedom is this that an Indian spy Kulbhushan Jadhav's interview can be aired but the youth of the tribal areas and former president Asif Zardari's interview is not," he said.