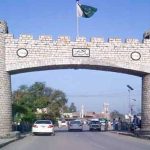 ISLAMABAD: Chairman Pakistan Peoples Party (PPP) Bilawal Bhutto Zardari Monday strongly opposed formation of National Development Council (NDC) and asked the government not to involve the institution of the army in economic decisions.
Taking part in debate on budget in National Assembly, the PPP chairman questioned the legal status of the NDC, saying that what was the need for NDC when there was a constitutional forum National Economic Council (NEC). He said that the army should be involved in economic decisions as the army could be blamed for any failed policy.
He said that the army is being kept away from such policies across the world. He said that he wanted the army to remain uncontroversial institution. He said that the government could take advice from NDU. The PPP chairman also questioned the legality of the commission on debt, saying that how could other institutions including MI and ISI question the parliament on budget and debt issues.
He said that if the government was interested in investigation into debts, then the national assembly standing committee on finance or senate standing committee of finance or special committee should be tasked with for this purpose.
He asked: "If the government does the Opposition's job, then who would do the government's job?"
Bilawal also questioned the decision to ban the lawmakers in the Lower House of Parliament from calling Imran Khan a "selected prime minister" in the National Assembly.
Bilawal said: "Heard the deputy speaker has banned the word 'selected'?
"It's quite weird to see you banning one word," he added, referring to Deputy Speaker Qasim Khan Suri's move to issue the Sunday ruling.
Lawmakers barred from calling PM 'selected' in National Assembly
"This ban has been imposed because of the prime minister's ego. None of the government's words can be censored.
"You're further fuelling the fire," he added.
The PPP boss further commented that doing so "doesn't mean that those problems go away.
"Those problems fester and then they come back to haunt you later," he warned.
"It's very unfortunate that in Naya Pakistan, the space for democratic rights and human rights is receding," he stressed.
Earlier, he also reminded the speaker of request for the production order of Ali Wazir and Mohsin Dawar.