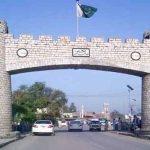 ISLAMABAD: PPP Chairman Bilawal Bhutto-Zardari on Friday raised questions over the absence of production orders for MNAs Ali Wazir and Mohsin Dawar, who were taken into custody earlier this week over their involvement in the North Waziristan Kharqamar check post incident.
Addressing a press conference outside the National Assembly, the PPP chairman said he had written a letter to National Assembly Speaker Asad Qaiser saying that production orders should be issued for the MNAs.
Bilawal said that despite having evidence that the letter had been received, "today in the NA we were lied to and told that they did not get this letter."
He raised the demand for issuance of the production order again, saying that the parliament should follow its own rules and laws. However, he alleged, the government just wants a selected opposition and judiciary.