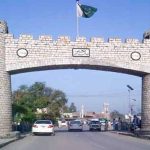 GARI KHUDA BAKSH: Chairman of Pakistan Peoples Party Bilawal Bhutto Zardari once again held former President Pervez Musharraf responsible for the killing of Benazir Bhutto.
Addressing a rally in Gari Khuda Baksh on the tenth death anniversary of former prime minister Benazir Bhutto, Bilawal Bhutto Zardari raised the slogans of 'Qatil Qatil Musharraf Qatil" (killer, killer Musharraf killer).
Bilawal alleged that Benazir was punished for preaching a peaceful side of Islam, fighting dictatorship, fighting terrorists, protecting democracy, establishing the supremacy of the constitution, fighting for the rights of oppressed citizens, and giving the women of this country their due rights.
"You [Benazir] were punished for your courage, strength, and undying love for the nation."
"Your murderers are still playing Holi with the blood of innocent citizens," the PPP Chairman said. "Youth, innocent sons and daughters of the soils, students, and innocent citizens are being murdered today by the same people who are responsible for your murder."
"My leader (Benazir), today, blood is cheaper than food," he said. "One day the prime minister says that we have destroyed the terrorists and our places of worship and schools are safe and the very next day a church in Quetta is attacked."
"Bibi Shaheed (martyred) we have not forgotten your promises," Bilawal said. "Our spirits get disoriented while remembering you on your tenth death anniversary."
Bibi was a symbol of life and hope, Bilawal said, adding that the PPP will remember today as the Day of Martyrdom because martyrs live on as an example for people.
He further said that the people are proud of Benazir — the leader of the oppressed people of Pakistan.
Hitting hard at political rivals and the ruling party Pakistan Muslim League – Nawaz (PML-N), he said that the government is responsible economically murdering the farmers and labourers of this country.
"Your farmers, your labourers are being economically murdered by this government," he said. "They have created an economy that supports only the elite and powerful."
"Today, a conspiracy is being hatched to destroy every institution of the country, the economy has been destroyed, and efforts are being made to distance the smaller provinces from the centre."
"Those who were alleging that others were thieves have been identified for the biggest theft in the country," Bilawal said in an apparent reference to former prime minister Nawaz Sharif – who was disqualified from holding public office in a verdict on the Panama Papers case by the Supreme Court.
"Politics has fallen into the laps of hypocrites today but I rebel from the nexus of religion and politics," he said.
"Your name is still the strong bond between the four provinces," Bilawal said, adding that party will continue to struggle for the freedom of judiciary.