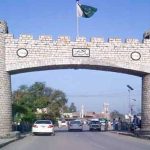 ISLAMABAD— Pakistan's People's Party (PPP) chairman Bilawal Bhutto Zardari has took oath as the federal foreign minister on Wednesday.
President Dr Arif Alvi has administered the oath of office to him in a ceremony at Aiwan-e-Sadr which was attended Prime Minister Shehbaz Sharif, former President Asif Ali Zardari, former prime minister Yousuf Raza Gilani, National Assembly Speaker Raja Pervaiz Ashraf, and a large number of parliamentarians, party workers, and government officials.
The close family members of Bilawal Bhutto including his sister Aseefa Bhutto and maternal aunt Sanam Bhutto – the sister of former prime minister Benazir Bhutto – also attended the ceremony.
Bilawal Bhutto joined the cabinet in the third phase of its formation as the earlier swearing-in ceremonies took place on April 19 and April 22.
The new cabinet reflects the political mix of Pakistan Muslim League-Nawaz (PML-N), Pakistan Peoples Party (PPP), Jamiat Ulema-e-Islam-Fazl (JUI-F), Pakistan Muslim League-Q and Muttahida Qaumi Movement (MQM).
After today's oath, the total number of federal ministers has increased to 35. There are also four ministers of state in PM Shehbaz's cabinet.
In the 39-member cabinet, there are some members who came to the assembly for the first time and joined the Shehbaz Shaif's cabinet.
There are some faces in the federal cabinet who have been prominent in parliament and national politics for many years, but they too have made their way to the federal cabinet for the first time.
Among the members who reached the National Assembly for the first time are Abid Hussain Bhai of PPP, Maulana Asad Mahmood , Maulana Abdul Wasi and Mufti Abdul Shakoor of the JUIF.
Apart from them, relatively new faces in the cabinet include Shazia Murree, Abdul Qadir Patel, and Ehsanur Rehman Mazari of the PPP, Azam Nazir Tarar and Mian Javed Latif and Murtaza Mahmood of the PMLN.