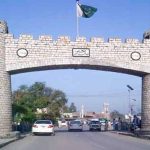 KARACHI: Chairman Pakistan Peoples Party Bilawal Bhutto Zardari has extended felicitations to the fellow citizens on Pakistan Day being celebrated Thursday.
In his message on the occasion, the PPP Chairman stressed for cementing relations among federating units in the spirit of Pakistan Resolution passed eight decades ago in Lahore.
He said it was high time to fulfill the dreams of the founders of Pakistan who laid foundations for an egalitarian Muslim nation based on justice, peace and equality.
Bilawal Bhutto Zardari pledged that as a true torch-bearer of the ideology of Pakistan and mission of our founders, the PPP would continue to march towards their goals and mission without looking back.
"Celebrating this great day in our history, let us carry forward this mission with all our capabilities and capacities to achieve the status on the world map as a model Muslim nation," he added.