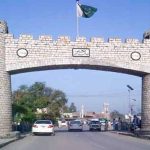 KARACHI: Bilawal Bhutto Zardari Chairman Pakistan People's Party has strongly condemned the brutal murder of Hamid Toori, President of PPP Kurram Agency and asked the concerned authorities to lay hands on the killers and bring them to book for exemplary punishment.
It be mentioned here that Hamid Toori was shot dead by unknown terrorists in Shablan District of Parachinar, the headquarters of Kurram Agency.
In a press statement, PPP Chairman said that killings of innocent people were going unabated in Kurram Agency since quite some time and authorities concerned are failing to control the situation and restore peace and harmony in the area.
Bilawal Bhutto Zardari expressed sympathy with the members of slain PPP leader's family and assured that Party was in complete solidarity with them and won't rest until justice is meted out to them.
He also prayed to Almighty Allah to grant peace to the departed soul and courage and fortitude to the members of the bereaved family to bear this irreparable loss.