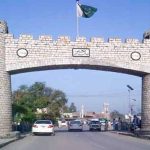 NAWABSHAH: Pakistan People's Party chairman Bilawal Bhutto on Sunday while lashing out at Interior Minister Chaudhry Nisar Ali Khan said that the National Action Plan has failed completely.
The PPP chairman while visiting a hospital in Nawabshah to inquire about the health of the injured victims of the Sehwan terror attack called for renewed and concerted efforts between the Sindh and federal government against terrorism.
Bilawal strongly criticised the interior minister for failing to implement the NAP, and said it was not the appropriate time for politics or blaming others but rather to be united and steadfast in the war against terror.
He once again reiterated his demand that the parliamentary body on national security should be restored. "Why was the National Action Plan not implemented," he questioned.
He expressed profound grief over the loss of life in the Sehwan tragedy. He said that heart-wrenching and brazen attack was an attack on the culture of Sindh.
He said despite the incident, there is a need to renew our efforts against terrorism. He vowed that the Sindh government will make its best efforts and struggle despite the limited resources.