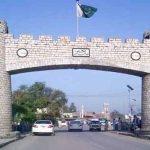 ISLAMABAD: Chairman Pakistan Peoples Party (PPP) Bilawal Bhutto Zardari once again criticized the speaker of National Assembly for not issuing production orders of Ali Wazir and Mohsin Dawar, MNAS from Waziristan.
Talking to newsmen outside the parliament house, the PPP chairman said that the members of the National Assembly have deprived to represent the people of North and South Waziristan in Naya Pakistan. He raised the issue in the national assembly session, but deputy speaker said that the speaker was looking into the issue.
He said that the MNAs were deprived of their right to vote on budget. He said that he will attend the APC, but would also participate in voting on budget. He said that no MNA of the PPP was participating in the APC except him. He said that he would be coming to NA for vote and joining the APC.
He hoped that the BNP-M would not vote for the budget as the government has failed to fulfil its promises with the BNP-M. He said that he would try to convince the other opposition parties on the six-points especially missing person issue of the BNP-M.