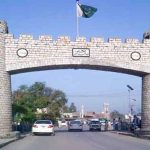 MUZAFFARGARH: Pakistan People's Party (PPP) Chairman Bilawal Bhutto Zardari has demanded transparent investigation into Panama leaks allegations.
Addressing a big public rally in Bagh, Azad Jammu Kashmir, Bilawal said, "We want transparent probe into Panama Papers allegations against Sharif family." He said, "Mian sahib you will have to answer over Panama leaks."
Bilawal also criticised PM Nawaz for neglecting Kashmir. "Mian Sahab has made Pakistan's stance on Kashmir a joke," he said, adding, "Mian Sahab went too far in his friendship with India that he did not care to meet Hurriyat leaders."
"No leader in the past has ever inflicted such damage on Kashmir."
PPP Chairman went on to say, "The government's boat is shaking. The game is now over for circus lions."
The PPP chairman termed 2016 Azad Kashmir General Election as equivalent to referendum.
"It's been 67 years and no resolution on Kashmir has ever been implemented," Bilawal said.
He added that the Nawaz-led government hasn't done anything for the people of Kashmir despite being in power for three years.
The PPP supremo criticised PM Nawaz for extending relations with India at cost of national integrity.
Bilawal was critical of Indian Prime Minister Narendra Modi and said there were many countries that denied visa to the Indian premier.
"India's foreign policy experts, too, were worried when Modi was elected as their prime minister," he added.
Bilawal stressed on his party's call to have plebiscite in the Indian-occupied Kashmir under the United Nations auspices.
Bilawal also flayed Punjab government, saying the Chotu gang exposed the good governance in the province. He said the real Chotu gang sitting in the chief minister house should also be eliminated.