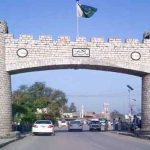 ISLAMABAD: PPP's chairman Bilawal Bhutto Zardari and JUI-F Maualan Fazlur Rehman have unanimously rejected the budget 2019-20 saying that it was IMF-prepared budget.
A PPP delegation led by Bilawal Bhutto Zardari Monday met with JUI-F chief Maulana Fazlur Rehman at his residence. Talking to newsmen after meeting, the JUI-F said that the joint strategy of the opposition against the government would be decided at APC later on this month. Syed Khursheed Shah and other PPP leaders were also present on this occasion.
Bilawal Bhutto said that there was not a much difference between the stance of the PPP and JUI-F, adding that the JUI-F wants end to the government while the PPP wanted the parliament to complete the term. He said that the government could be change while the parliament will complete term. However, the final decision would be taken by the APC, Maulana Fazlur Rehman. He said that they agreed that the APC's decision would be final.
He said that the government was not issuing production orders of the MNAs of the PTM and PPP to reduce the votes of the opposition for budget approval.
Bilawal said that the JUI-F had struggle jointly against Musharraf and would also struggle jointly against the puppet rulers. He said that the opposition would not let the government to approve budget from the parliament.