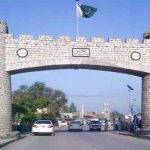 ISLAMABAD: Foreign Minister Bilawal Bhutto Zardari called on Prime Minister Shehbaz Sharif to initiate legal action against Imran Khan, Qasim Suri, and President Arif Alvi for violating the constitution during vote of no-confidence.
Speaking in the National Assembly, Bilawal Bhutto Zardari stated that Pakistan has faced a democratic, constitutional crisis and dictatorship in the past. The country is currently facing severe inflation and economic difficulties, which are worsened by the ongoing Russia-Ukraine war and the COVID-19 pandemic, over which Pakistan has no control, he said.
Bilawal Bhutto Zardari highlighted that terrorists have shed the blood of the Pakistani people for years, but the incompetent, selected prime minister had pardoned them. He also mentioned that the tribal people have fought against the terrorists but unfortunately, the former ruler brought them back and settled them. The foreign minister pointed out that there is no example in the world of tribal people competing with terrorists.
Bilawal Bhutto Zardari stressed that the Pakistani government must uphold the supremacy of democracy and the constitution. He argued that undemocratic actions have been taken in response to constitutional initiatives, and the constitution has been violated in response to democratic no trust motion. He called for transparency and accountability to address the ongoing crisis and emphasized that remaining silent is not an option.
The foreign minister also mentioned the interference of former ISI chiefs in politics, and he questioned the political future of the children of dictators. He highlighted the roles of General Hameed Gul, General Pasha, Zaheer Islam, and General Faiz Hameed in Iman Khan's political life . He argued that their actions have had negative consequences for the country.
Bilawal Bhutto Zardari further emphasized the importance of the supremacy of the constitution and free media. He criticized undemocratic steps taken in response to democratic initiatives and called for appropriate legal action to be taken against those who violate the law. He highlighted the importance of accountability and transparency in the face of the ongoing crisis.
Bilawal Bhutto Zardari called for action against those involved in conspiracies against the two prime ministers. He emphasized the importance of legislation to address such situations and criticized the blackmailing tactics used during the 19th Amendment process.