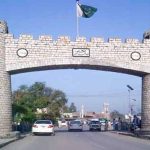 LAHORE: Pakistan Peoples Party (PPP) chairman Bilawal Bhutto Zardari on Thursday begun the anti-government rally from Lahore to Faisalabad to press the incumbent PML-N government to accept his four demands.
Before starting the rally, PPP leader Nadeem Afzal Chan tied Imam Zaman to Bilawal.
The PPP's anti-government rally initiated after Bilawal Bhutto's address at main gate of Bilawal House.
The rally will be directed towards Canal Road all the way to Thokar Niaz Baig, which will lead to the motorway.
Aitzaz Ahsan will join the rally from first toll plaza and feed breakfast to the PPP workers whereas Bilawal Bhutto will have a brief address there.
Rally will then be directed from Faizpur Interchange to Sheikhupura Road where the PPP chairman will be greeted at Phol Mandi. Bilawal Bhutto will speak to the gathering at Batti Chowk in Sheikhupura.
Camps to welcome Bilawal will also be set at Nankana Sahib, Feroze Wattwan and Manawala.
The rally will enter Faisalabad from Kharianwala and it will end at District Council Hall where PPP chairman will conduct a concluding address to the gathering.
Moreover, a special truck will feature in the PPP rally which was once used by Benazir Bhutto in her days.