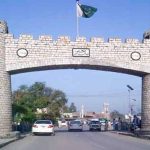 KARACHI: Pakistan People's Party (PPP) Chairman Bilawal Bhutto Zardari has suffered an upset defeat from it stronghold Lyari in general elections.
According to details, Pakistan Tehreek-e-Insaf (PTI) candidate Abdul Shakur defeated Bilawal Bhutto on NA-246 Karachi's constituency.
Shakur bagged 52, 750 votes in the constituency followed by Tehreek-e-Labaik Pakistan (TLP) candidate.
Bilawal Bhutto lost the seat to PTI candidate with big margin and stood third in the constituency.