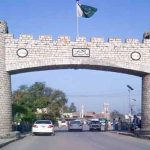 ISLAMABAD: Pakistan Peoples Party Chairman Bilawal Bhutto Zardari on Friday mocked Indian Prime Minister Narendra Modi for claiming they had shot down a Pakistani F-16 fighter jet in an aerial dogfight between the two sides in February.
"Oh dear how embarrassing Narendra Modi if you are going to lie at least try something more believable? Everyone knows you guys can't aim. When you lie you don't hurt others, you hurt yourself. The great nation of India can do better. Its people deserve better," Bilawal tweeted.
Earlier today, US defense officials debunked India's claim of shooting down F-16 fighter jet and said that US personnel recently counted Pakistan's F-16s and found none missing.
According to Foreign Policy magazine, the findings directly contradict the account of Indian Air Force officials, who said that Wing Commander Abhinandan Varthaman managed to shoot down a Pakistani F-16 before his own plane was downed by Pakistan Air Force.
"As details come out, it looks worse and worse for the Indians," Foreign Policy quoted Vipin Narang, an associate professor of political science as saying. "It looks increasingly like India failed to impose significant costs on Pakistan, but lost a plane and a helicopter of its own in the process."
One of the senior US defense officials said that Pakistan invited the United States to physically count its F-16 planes after the incident as part of an end-user agreement signed when the foreign military sale was finalised.
The count has been completed, and "all aircraft were present and accounted for," the official said.
Tensions soared between India and Pakistan in the aftermath of the February 14 suicide bombing in Pulwama, occupied Kashmir.
India piled the blame for Pulwama bombing on Pakistan without presenting any proof. The allegations were strongly refuted by Pakistan.
In response, India said it carried out on February 26 air strikes on what it called a militant training camp at Balakot inside Pakistan.
The Indian government was quick to take credit for a "successful" airstrike and put the death toll to over 300. Pakistani officials, as well as the locals, rejected the claims, inviting local and international media to visit the site of the so-called attack where around a dozen trees were the only "casualty".
The Pakistan Air Force, in retaliatory action, downed two Indian aircraft the next day, capturing Indian Wing Commander Abhinandan who was then released as a peace gesture by Pakistan.