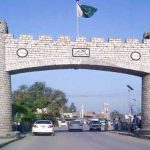 KARACHI: PPP chairman Bilawal Bhutto Zardari on Saturday visited the shrine of Sufi saint Hazrat Abdullah Shah Ghazi and offered fateha, and showered rose petals at his mausoleum.
The PPP chairman was accompanied by former Chief Minister Murad Ali Shah, Sherry Rehman, Nabeel Gabol, Khalil Hoath & other PPP leaders during the visit.
He also visited the shrine of Hazrat Mohammad Shah Dulha Sabzwari in the city's Lyari area.
Later, the PPP chief met the family members of six persons who were drowned near Gaddani during Eid holidays more than a week ago.
He visited the residence of the victims, met their bereaved families and sympathized with them for the unbearable losses.