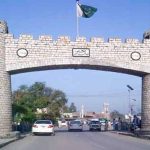 ISLAMABAD/RAWALPINDI: Chairman Pakistan Peoples Party (PPP) Bilawal Bhutto Zardari Tuesday vowed to fulfill the promises he is making during his election campaign.
He was addressing party workers during his election campaign in Barakahu, Faizabad and Rawat. He appealed to the people to vote for PPP so that he could implement the pro-poor manifesto of his party.
The PPP leader said the party had always battled poverty and gave the example of the Benazir Income Support Programme. He said that the PPP would give interest-free loans to women so they could gain financial independence. He also promised that Kisan card would be issued to farmers.
He said that the PPP has a history of saving and building Pakistan. "We are not in competition with any political party or politician, we are fighting against poverty and deprivation," said Bilawal.
The PPP chairman said that his party will resolve every issue through the power of the people.