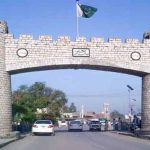 LAHORE: Pakistan Peoples Party (PPP) Chairman Bilawal Bhutto-Zardari kick started an anti-government rally from Lahore to Faisalabad in Sheikhupura today, calling for an end to the PML-N government's tenure.
Addressing the rally participants, Bilawal said that Shahbaz Sharif and Nawaz Sharif said that the country is making progress adding that how can a country make progress when sources of income are so limited. "If you are with me… it is evident that we will have to run the Sharifs out," he asserted.
The PPP chairman touched upon various problems affecting people, including gas and power shortages, agricultural support prices, shutting down of industries and a rise in unemployment. "This is the government's job ─ to provide gas to factories, livelihood to people and an end to poverty," he said. "PML-N will have to go," he told the public gathering.
On the way to Faisalabad, Bilawal is expected to deliver brief speeches at public meetings at Sheikhupura, Nankana Sahib and Shahkot, according to the PPP's central Punjab chapter chief Qamar Zaman Kaira.
The rally is part of Bilawal's plan to reorganise the party and boost the morale of party activists in Punjab who had gone into dormancy reportedly because of PPP's 'reconciliation policy' towards the ruling PML-N and distancing of the leadership from workers during the last eight years or so.
He had earlier announced shifting all his political activities to Lahore and making Bilawal House Lahore his base camp to reactivate jiyalas in Punjab, once considered a stronghold of PPP that gradually slipped out of its hands to the benefit of the PML-N.
In December, Bilawal and his father Asif Ali Zardari made their first major appearance at a rally together in three years, announcing their intention to contest by-polls and acquire seats in 'this parliament'.
Bilawal will contest polls under the PPP banner with the symbol of 'two swords', whereas Zardari will contest under the PPP-P and the 'arrow' symbol.
At the rally, Bilawal announced his intention to 'present a new PPP', despite endurance of the party's ideology over time.
"We have to present a new PPP so it can stay abreast of current challenges," he had said, claiming that Benazir's vision was even more valuable now that it had been in the past.
"The PML-N government has been unsuccessful. We cannot stay quiet any longer," he had claimed.