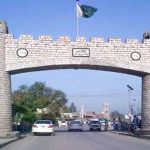 LAHORE: Chairman of Pakistan People's Party (PPP), Bilawal Bhutto Zardari on Wednesday warned the federal government of massive street agitation if his demands were not fulfilled.
Bilawal was addressing a rally in Bilawal House in connection with party's foundation day today. He dedicated 49th foundation of the political party to late Jahangir Badar, a leader of the organisation who passed away earlier this month on 14th.
He said that Lahore, which is the heart of the country was chosen to lead celebrations of 49th foundation day of PPP. Bilawal said that the people of Lahore warmly welcomed his mother, first woman premier of Pakistan, late Benazir Bhutto in 1986. He branded Lahore as party's birth place.
He said that district-level organisation of the political party was underway and that every possible step would be taken to bring democratic reforms.
Leader of PPP said that late Benazir never led a sit-in at any chowk or cussed political rivals, or attacked a national institution which is what PPP believed in.
A fresh charter and an agenda would be introduced which would be a progressive platform for the people of the country, he added.
Earlier, Bilawal, Chief Minister (CM) of Sindh, Murad Ali Shah and ministers and advisors of Sindh Government arrived in Lahore to address the gathering and lead celebratory rally at Bilawal House today.
Late Zulfikar Ali Bhutto, grandfather of now Chairman of the political organisation had founded the party on November 30, 1967 and Wednesday marks the 49th anniversary of the event.
Several rallies were conducted across the country by supporters of the party however, the leading celebratory ceremony has been convened in Lahore and for the purpose leaders of the party reached Lahore on Tuesday for at least five days.
Dignitaries attending the ceremony include former prime minister Yousaf Raza Gilani, Leader of the Opposition in National Assembly (NA), Khurshid Shah, Leader of the Opposition in Senate, Aitzaz Ahsan, former information minister Qamar Zaman Kaira, Sherry Rehman and others.