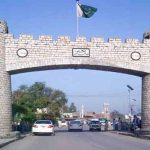 GILGIT: Pakistan Peoples Party (PPP) chairman Bilawal Bhutto Zardari on Sunday warned Prime Minister (PM) Imran Khan-led federal government that PPP would 'halt' the path of 'annihilation'.
He was addressing public gathering in Gilgit. "The government which came to power through stealing votes is displaying sheer stubbornness. A dark era has been enforced on masses", the Bhutto Jr was quoted as saying.
The chairman went on to say that federal govt had taken over 100 u-turns even before completion of first 100 days of their tenure. "Those who claimed to prefer suicide over taking loans are distributing sweets on same", taunted Bilawal.
Bilawal added that he would not let Pakistan become a 'laboratory'.
Commenting on anti-encroachment drive, the chairman of Sindh-based party demanded to first provide space to those who are being forced to vacate their residences.