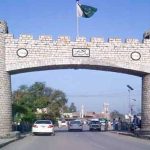 NEW YORK: Microsoft founder and head of the Bill & Melinda Gates Foundation, Bill Gates Thursday appreciated the tremendous success of Pakistan in eradication of polio virus from the country over the past four years. He called on Prime Minister Shahid Khaqan Abbasi on the sidelines of 72nd session of the UN General Assembly in New York.
While commending Pakistan's efforts in this connection, Bill Gates said that he would stand with Pakistan and pledged all support for polio eradication from the country. He expressed his desire to work in the country to raise the status of a common man.
The prime minister briefed Bill Gates on the measures taken by his government in the national fight against the deadly polio virus.
Prime Minister Abbasi said federal government along with all provincial governments have collectively involved in efforts for polio eradication.
He said all resources at federal and provincial levels were being fully utilized for achieving a polio free Pakistan and ensuring healthy future generations.