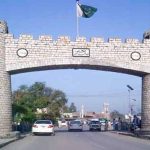 RAWALPINDI — Chief of Army Staff (COAS) General Qamar Javed Bajwa held a telephone conversation with Microsoft co-founder turned philanthropist Bill Gates following emergence of two polio cases in a week in restive North Waziristan district of Khyber Pakhtunkhwa.
"Matters related to Pakistan's commitment for comprehensive Polio eradication and COVID-19 were discussed," says a press release issued by the ISPR.
Mr Gates conveyed appreciation for Pakistan Army for supporting national polio drive, ensuring proper reach and coverage, the ISPR said. COAS said it was a national cause and credit goes to all involved in the process. Mr Gates also appreciated Pakistan's success against COVID-19 despite resource constraints. COAS attributed the success to a true national response, executed through the mechanism of NCOC which allowed optimisation of resources.
COAS appreciated his efforts towards this noble cause and assured him continued cooperation.
Earlier this week, Prime Minister Mian Shehbaz Sharif had spoke on telephone with Mr. Bill Gates and discussed ongoing public health and social sector programmes supported by BMGF in Pakistan including polio eradication and the Foundation's support towards improving immunisation, nutrition and financial inclusion services in Pakistan.
The Prime Minister underscored that Pakistan deeply values its cooperation with BMGF. He reaffirmed Pakistan's commitment to further solidifying its fruitful partnership with the Foundation in all the ongoing areas of work.
It is pertinent to mention here that two polio cases contracted in North Waziristan in a week, after 15 months, raising fears of polio outbreak.
In 2021, Pakistan had reported only one WPV1 case which had onset of paralysis on 27 January in Killa Abdullah, Balochistan.