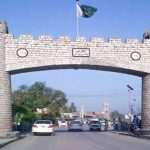 LAHORE: Pakistan People's Party (PPP) chairman Bilawal Bhutto Zardari on Tuesday threatened to start a long march if the federal government fails to act on his four-point agenda after December 27.
In a hard-hitting speech in the provincial capital, Bilawal claimed that PPP is in Punjab for a "democratic occupation" and to remind Sharifs (Nawaz and Shahbaz) that people are wary of their policies and it is their "last turn in power".
Bilawal Bhutto had kept four demands before the federal government which include appointment of a foreign minister, passage of the Panama Papers inquiry bill in National Assembly, reinstatement of the standing committee on terrorism, and implementation of the recommendations provided by the party in the China-Pakistan Economic Corridor.