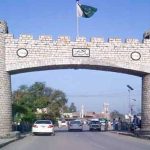 PESHAWAR: At least five people sustained minor injuries in an explosion near a private hospital on Peshawar's Ring Road on Friday, police said.
SSP Operations Sajjad Khan said the explosion took place near a hospital located on Ring Road in which five people sustained injuries.
Area people who were near the site of the explosion said it sounded like a grenade explosion, however the police did not confirm the exact nature of the explosion.
The victims sustained minor injuries and were rushed to the private hospital where doctors said the all the injured were stable.
Meanwhile, the police and intelligence agencies, in a joint operation, rounded up two terrorists and recovered seven hand grenades, four Improvised Explosive Devices (IEDs) and prima card and shrapnel from an under construction house.
The SSP said the arrested terrorists were plotting a major terrorist activity in the city, which was foiled due to the timely operation.