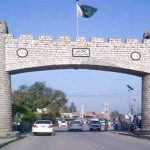 PESHAWAR: At least three people including two children sustained injuries in a bomb blast in Achini area of Peshawar here on Wednesday.
Police states that the bomb was placed on Ring road and exploded as convoy of security forces' passed through the area.
Heavy contingent of police reached the scene immediately and cordoned off the area while initiating rescue efforts.
The two children got minor injuries and were discharged after providing medical aid on the spot.
According to Bomb Disposal Squad (BDS), the blast was carried out by Improvised Explosive Devices (IEDs) in which six to eight kilograms explosive material alongwith ball bearing and artillery shells have been used.
Moreover, the bomb was connected with a remote-controlled device.