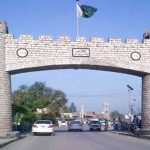 LAHORE: Protest of visually impaired people outside Punjab Assembly entered fourth day on Thursday seeking increase in their employment quota and turning temporary employees to permanent job-holders.
The protest started on June 8 and intensified with the passage of time.
The protesters conducted a rally outside the press club and marched towards the Punjab Assembly.
Upon failing to enter the assembly premises, the protesters demonstrated a sit-in at Chairing Cross.
The blind people have also staged a protest at metro bus route blocking the service from Kalma Chowk to Barkat Market and Gulberg.
The route blockage has created severe problems for thousands of people.
The protesters state that they completely reject talks which were held a day before whereas the sit-in will continue unless Chief Minister (CM) Punjab do not come for negotiations by himself.
They also termed Rana Sanullah as unreliable personality as he had deceived them earlier.