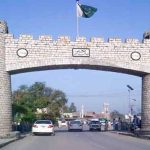 LAHORE: Visually impaired people, in favor of their demands, have staged protest once again outside Press Club in Lahore and blocked the road.
Reportedly, the blind persons have been protesting since long for the fulfillment of their demands regarding permanency of jobs for all those employees who are working on daily wages as well as on contract.
They have complained that the employees were not being paid and if they got their salaries, government deducted amount for official leaves.
The protesters declared that if government did not fulfill their demands this time, they would enhance the scope of this protest by blocking Mall Road as well.