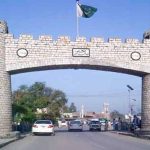 BOAO: Prime Minister Shahid Khaqan Abbasi has said that Pak-China friendship is bedrock of strategic stability.
Addressing opening ceremony of Boao Forum for Asia annual conference in Hainan Province of China on Tuesday morning, he said it is but natural for Pakistan to take the lead in partnering with China to usher in a new era of peace and prosperity through enhanced connectivity.
He said in Pakistan today, step by step, a brave new Asia is taking shape. The China-Pakistan Economic Corridor is fast reaching fruition. It is an excellent example of an open, coordinated, and inclusive development paradigm that benefits all stakeholders.
The Prime Minister pointed out that on the southern tip of the Corridor, deep seaport of Gwadar will afford shortest maritime and overland access to Western China, Central and South Asia and the Middle East.
Shahid Khaqan Abbasi said Pakistan has already begun reaping dividends of CPEC rail, road and infrastructure projects.