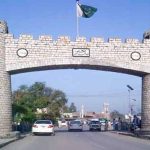 ISLAMABAD: British Airways will resume flights to Pakistan next year after a 10-year absence following an Islamist militant truck bomb that killed more than 50 people at the Marriott Hotel in Islamabad, the carrier and a British official said on Tuesday.
"Direct flights from London Heathrow to Islamabad's new airport to start in June," said British High Commissioner Thomas Drew in a video on Twitter. "A further boost to links between the UK and Pakistan, especially on trade and investment."
The first flight will touch down in Islamabad, said a British Airways official at a press conference alongside Prime Minister's Special Assistant on Overseas Pakistanis and Human Resource Development Zulfi Bukhari.
British Airways logos are seen on tail fins at Heathrow Airport in west London, Britain, February 23, 2018. REUTERS/Hannah McKay/File Photo
It will be the first Western carrier to restart flying to Pakistan, where a new airport in the capital has helped ease congestion and concerns about air travel security, since its pullout in 2008.
One of the most high-profile attacks in Pakistan's history took place during a period of devastating Islamist militant violence that swept across the nuclear-armed South Asian nation.
In September 2008, British Airways suspended all its flights to Pakistan because of security fears after the blast outside the Marriott Hotel that claimed more than 40 lives.
"British Airways coming back after a decade shows you where we were and how far we've come," Bukhari said, terming the announcement "groundbreaking". "This is a huge achievement for where we [Pakistan] want to be. It's a huge step for this government that it has given foreign investors that security to come back."
He added that this sense of security was "vital" for other various investments to come in.