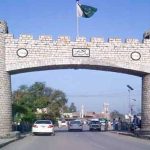 MIRANSHAH: General Sir Nicholas Patrick Carter, Chief of General Staff (CGS) UK Army, commended Pakistan army for its inspiring efforts to cleanse North Waziristan of militants and building peace.
"It's a great privilege for me as the head of British Army to come to Miranshah. I heard so much about this place and I heard so much about what Pakistan army has been doing in this part of the world," General Sir Nicholas Patrick said during his trip to Miranshah, the headquarter of North Waziristan Agency.
"I have spent of lot of my time in Afghanistan to understand the nature of the task and the problem of comment threat that we face. And I think it's a huge credit to Pakistan army that it has managed to clear and so far hold this area."
"The trick now is to building peace on it. It's really inspiring to see how that is under way in Miranshah and I much look forward to see the population return," he added.